2016 Race Registration Now Live!!!
We are pleased to announce that race registration is now open. Pkease join us on Sunday April 24, 2016 for Ontario's classic bicycle race.

A New Ride for Research
Beginning in 2016, St. Joseph's Healthcare Foundation is proud to be the new official charity partner of the Paris to Ancaster Bike Race. Now novice and expert cyclists alike can ride to support research at St. Joe's. Whether you choose to fundraise on your own, or as part of a corporate or friends and family team, every dollar you raise will be supporting vital healthcare research. St. Joe's is a research powerhouse in areas like mental health & addictions, kidney & urinary care, lung diseases, critical care and much more. The funds you raise through this Ride for Research will help to create a healthier future for all of us. CLICK HERE for more information on how to register and raise funds in the 2016 Paris to Ancaster Bike Race.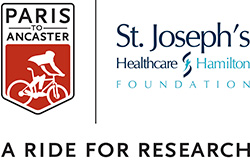 New 20KM Start Location!!!
The 20km P2A has a new start line. Many thanks to Bishop Tonnos High School for hosting the 20 km start. Exciting new course details to be revealed soon!