25TH ANNUAL P2A - SUNDAY APRIL 29 2018

2018 RESULTS NOW FINAL
It has taken a couple of days but the results from P2A 2018 are now finalized. Hope you have a great race! To view the results visit our RESULTS PAGE.

2018 PHOTOS/VIDEOS
The first galleries are now available - IMAGES. We are still waiting for more links to visuals. Photographs and videographers please send us a link and we will post it.

Clarification on 2018 P2A Disqualifications
STATEMENT FROM RIDE ORGANIZERS: Last weekend we received complaints from landowners – one verbal, several on-line, complaining of riders trespassing on their property. In the one instance the landowner indicated that over 100 people had went through their property. Another complained that they were disturbed at a family event, while another indicated the riders entered the property through their driveway.

We also became aware of several strava posts indicating that riders had entered private property. As a result we took the step of disqualifying several groups of riders.

Initially we disqualified a group of 7 riders. At the same time we announced this we included quotes from landowners. These quotes were intended to convey the importance of all riders staying off private property. They were not intended to imply that the 7 suspended riders were the ones referred to in the quotes – in fact, although their ride did infringe on private property, it did not cross either of these landowners properties.

We all have a collective responsibility to respect the rights of the landowners. We believe that hundreds of riders inadvertently or not, have used portions of the course. This year we will be posting signs indicating the private areas to build knowledge amongst our riders. We also plan to publish a "sanctioned " pre ride, so that riders can do this without fear of inadvertently crossing private property.

All disqualified riders are welcome back in 2019. Any qualification status earned from 2017 will be honoured in 2019.

We hope at this point that this issue can be put behind us, and everyone can have a great ride on Sunday.

John Thorpe/Tim Farrar Race Directors

MORE ABOUT THE TRESPASSING
The issue of riders trespassing has been an increasing problem in recent years. In most cases we have no way to positively identify riders who ignored or were unaware of the no pre-ride policy that has been clearly stated repeatedly over the last 24 years in P2A communications and published race information. No maps have ever been provided, permission is for one day per year, don't ride private property on any day except race day and other similar statements are a longstanding part of P2A communications. Some riders don't seem to hear us, or appreciate that the future of the race is in very real jeopardy every time a rider assumes it's ok, just this once, for me and my buddies to check out this farm or that trail.

We know that not every rider who trespassed was also so rude as to berate the property owners for being upset at the trespass issue. But some were. We also acknowledge that some riders may have inadvertently trespassed, either through a genuine belief that the property in question was ok to pre ride or did so on the "advice" of a group ride leader. But personal responsibility does have a role here too. A gravel or dirt road intersecting with a paved roadway has a few commonly recognized indicators to confirm it is a public right of way. No stop sign at the main road intersection and no road sign name are abundantly clear indications that the lane is private property. The abscence of a "no trespassing" sign is not an invitation to explore.

The riders who have been disqualified are not being sanctioned because their behavior was any worse than any other riders who trespassed. There are worse offenders whose identities we were unable to confirm. The fact is, these are the riders who got caught, exclusively because they posted their rides and in effect, confessed. Thanks to Strava, guilt in this isn't really an issue as almost all the DQ'd riders have admitted it. Yes, lots of others trespassed too, and got away with it this time, but just try using that excuse when stopped for going 10kph over the speed limit. The fact that others were 20kph over doesn't cut it as an explanation to the police.

We take no pleasure in denying the opportunity to participate but the private landowners on whom P2A depends also need to know that we are taking this issue seriously. We are not naming and shaming the identified riders, though many have suggested we do so. They are welcome back in 2019. Any qualification status earned from 2017 will be honoured in 2019.

Tim Farrar, John Thorpe
Race Directors

AFTER RACE BUSES
We are getting a lot of requests from people about buying bus tickets. If you get to the start line by yourself there is a free shuttle service to get back to your car after the race for both the 40 and 70km. Bikes will not be transported back. They can be left in the Bike Wash Corral and claimed after you have picked up your car. We will not be selling bus tickets on Saturday or Sunday.

SATURDAY REGISTRATIONS & WAVE CHANGES
The 25th Annual P2A has had record numbers of registrants sign up on line. This has had a big impact on the availability of in person registration on Saturday 10-5pm.

P2AVIP - all spots filled - no in person registration.
P2A40 - all spots filled - no in person registration.
P2A70 - about a dozen spots open for Wave 4 only - first come, first served.
P2A20 - lots of room for this fun, family event. Happy to have you register.

Wave Changes - since the P2A70 is essentially filled, do not expect much in the way of wave change availability on Saturday. The only way that you could move up a wave is if someone else goes down a wave (or two). It is all first come, first served and there is no guarantee that you will be able to change.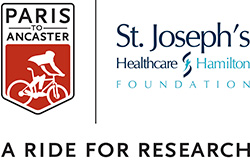 Ride for Research
Back for 2018, St. Joseph's Healthcare Foundation is proud to be the official charity partner of the Paris to Ancaster Bike Race. Now novice and expert cyclists alike can ride to support research at St. Joe's. Whether you choose to fundraise on your own, or as part of a corporate or friends and family team, every dollar you raise will be supporting vital healthcare research. St. Joe's is a research powerhouse in areas like mental health & addictions, kidney & urinary care, lung diseases, critical care and much more. The funds you raise through this Ride for Research will help to create a healthier future for all of us. CLICK HERE to raise funds for St. Joe's in the 2018 Paris to Ancaster Bike Race.