P2A LOST AND FOUND
For an event the size of the P2A we don't get all that much lost stuff. Most of our lost and found stayed at the Ancaster Community Center and if you lost something you are able to pick it up there. However we have one big item that we would like to reconnect with the owner. It is a bag with shoes, a jacket, and a few other items but probably most importantly a set of keys to a TESLA in the pocket. It also has a receipt for a pair of gloves so feel free to describe it all and if you can identify the bike store where you bought the gloves, you can have the rest…. Send an email to
info@parisancaster.com
P2A RACE PHOTOS
Such a memorable day should have some photo memories. We just heard from our friends at Apex Photography that they shot about 30,000 pics! Amazing. You've seen their work before, such as their great pic on this page just above. Photos are available for viewing and purchase on line -
CLICK
We have also seen a link to a gallery of P2A70 photos on Canadian Cyclist -
CLICK
LATEST PHOTOS - Pedal Power Photography -
CLICK
Other photographers and media - send us a link and we will put it up for you!
WHAT A DAY AT THE P2A!
Did race day ever turn out to be awesome. It was hard to believe that a week ago snow was expected. An overnight sprinkle of rain gave way to brilliant skies and fantastic course conditions.
And the racing - simply spectacular. Congratulations to Peter Disera and Jenn Jackson for hard fought wins. Congratulations to all who participated and helped to make this one of the most memorable P2A's ever.
Special thanks to all of sponsors and volunteers. We couldn't do the event without you. Extra special thanks to all of our land owners who have been so kind to permit us to race on their property. It is most appreciated and helps to make the P2A what it is.
We hope to see you next year!!
RACE RESULTS FINALIZED - 05/01/19
P2A Partners with National Cyclo-Cross Team
Paris to Ancaster is proud to announce a new partnership with the Canadian National Cyclo-Cross team for the next five years, in an effort to better promote and support Cyclo-Cross in Canada.
This five-year financial commitment from P2A will directly help the National Team program by offsetting the costs associated with providing mechanical and coaching support to national team athletes while at international competitions. P2A Race Director Tim Farrar says, "In a sense, P2A is simply doubling down on a year's long commitment to provide what support we can. The National Cyclocross team athletes and staff can count on us for the next 5 seasons…at least".
Athletes and staff of the National team have often become P2A's biggest supporters and unofficial ambassadors for the race, raising the international profile of the event. P2A and the CX National Team already have a 'Win, Win' partnership, says Tim Farrar. Cycling Canada officials hope that this increased level of partnership will allow them to better promote the Canadian spring classic abroad and will help continue to grow the level of support they offer our National team athletes.
Kris Westwood, Head of Performance Operations at Cycling Canada, says, "This is really exciting as it's the first time we've had a sponsor step in to help one of our non-Olympic disciplines. Cyclo-cross is a fun and safe yet challenging introduction to cycling for many athletes that has high performance targets in its own right; many of our current track, mountain bike and road national team members had their first world championships experience in cross. And of course, the success of the Paris to Ancaster Bike Race is testimony to how popular this branch of cycling is in North America."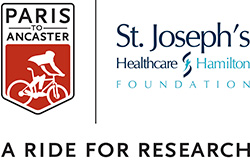 Ride for Research
Back for 2019, St. Joseph's Healthcare Foundation is proud to be the official charity partner of the Paris to Ancaster Bike Race. Now novice and expert cyclists alike can ride to support research at St. Joe's. Whether you choose to fundraise on your own, or as part of a corporate or friends and family team, every dollar you raise will be supporting vital healthcare research. St. Joe's is a research powerhouse in areas like mental health & addictions, kidney & urinary care, lung diseases, critical care and much more. The funds you raise through this Ride for Research will help to create a healthier future for all of us.
CLICK HERE
to raise funds for St. Joe's in the 2019 Paris to Ancaster Bike Race.