25TH ANNUAL P2A - SUNDAY APRIL 29 2018

ON LINE REGISTRATION CLOSES MONDAY!!
3 more days left for on line registration and services. There are about 40 spots left in the P2A70 Wave 4 and only 20 in the VIP. Once they are gone they are gone. The on line registration closes Monday April 23rd at 11:59pm. We need time to crunch all the data and prepare race kits.

When on line registration closes the night of Monday April 23rd there will be no more transfers. Get it done asap please.

LADIES OPEN HOUSE & EXPO SOLD OUT
Freewheel Cycle in Dundas is having a women's social evening from 6-9pm on Saturday April 28th. More info CLICK HERE

We are also pleased to note that our Expo/Demo Day is completely sold out for vendors. It is a truly impressive list of vendors that will be there Saturday and Sunday of race weekend. Make sure to stop by on Saturday after you get your race kit. Check it out - CLICK HERE

UPDATE - P2A40 COMPLETELY FILLED
Are you thinking of racing in the 25th Annual P2A? Are you registered but you've got friends who haven't yet? Simply put - you are running out of time. There is now mere days to our special anniversary event. P2A40 Wave 2 IS NOW FILLED. You can still race the P2A40 if you register for the VIP.

WARM WEATHER & TRAIL CONDITIONS
Beautiful weather and everyone wants to go out and ride, and train for the P2A. Please make sure you ride on hard surfaces. The trails need more time to dry out. The ground is still frozen just below the surface and we had a lot of rain recently. Ride, or walk, on this soft surface and you are going to do damage. The P2A is 2 months away and the trails will improve. Please give them time. Stick to the road, find a hill to climb or ride into the wind. That will do you more good than riding at 5kph on a trail and leaving tracks that will persist for weeks. Thanks for listening.

RACE DAY PICKUP
A word about race day kit pickup…from the organizers

As you may know this is the first year that we are not offering race day number pickup. We have had some negative feedback to this and so wanted to explain this change. Most importantly you should know we didn't make this change just to inconvenience you but do acknowledge that we could have made this change more clear prior to registration opening. We have heard your concerns, and will do all we can to alleviate any inconvenience. The goal of this change is to improve the race day experience for all competitors, and relieve last minute stress on our volunteers. Many of these volunteers have worked at P2A for years, and as the event has grown the stresses have increased.

Last year approximately 60% of our almost 3000 competitors picked up kits at the community center starting at 6.30 am race day! Meanwhile approximately 80% of competitors are local. This last minute rush not only puts stress on the volunteers, but also can lead to problems with results if competitors arrive and find their information missing or incorrect. We have modified our pickup procedures to help accommodate those who are coming from a distance – specifically by using online waivers, we can allow group pickup of kits, and we have extended our hours on Saturday. We also have some new and exciting activities available this year, including our first demo day so we are hoping this will entice you to drop by Saturday and take a spin on some of the latest gravel bikes.

We hope you can help us find a way to make it work …but if you can't… don't worry … we won't leave you out … we will develop a solution …we want you at P2A25.

Please contact us at info@parisancaster.com with any suggestions or feedback. Tim and John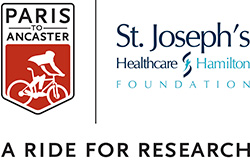 Ride for Research
Back for 2018, St. Joseph's Healthcare Foundation is proud to be the official charity partner of the Paris to Ancaster Bike Race. Now novice and expert cyclists alike can ride to support research at St. Joe's. Whether you choose to fundraise on your own, or as part of a corporate or friends and family team, every dollar you raise will be supporting vital healthcare research. St. Joe's is a research powerhouse in areas like mental health & addictions, kidney & urinary care, lung diseases, critical care and much more. The funds you raise through this Ride for Research will help to create a healthier future for all of us. CLICK HERE to raise funds for St. Joe's in the 2018 Paris to Ancaster Bike Race.