25TH ANNUAL P2A - SUNDAY APRIL 29 2018
REGISTRATION IS NOW OPEN!!!
It is hard to believe that it has been 25 years since our first event. We've gotten longer and bigger and become a true classic anticipated by thousands of cyclists.

Last year was truly epic with wind and cold. 2018? Of course we have no idea as yet but as it is our 25th Annual race it is going to be epic even before it starts. We hope to see at the 25th Annual P2A!

HISTORICAL PHOTOS
We have put up a selection of photos from previous P2A's at the top of each page. If you have any photos from the 1990's editions of the P2A please let us know. We would love to share them with everyone.

SOME GREAT READING
There are 2 blogs that you should check out. First up is from Matt Surch, the 2017 3rd place finisher. If you thought it was an easy race for the pros then read what Matt had to say - CLICK. If you want a sense of what it is like for a P2A first timer, even though she won, check out Rebecca Fahringer's posting. The joys of travel, racing and more - CLICK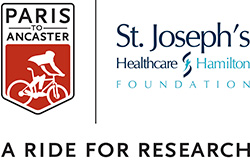 Ride for Research
Back for 2018, St. Joseph's Healthcare Foundation is proud to be the official charity partner of the Paris to Ancaster Bike Race. Now novice and expert cyclists alike can ride to support research at St. Joe's. Whether you choose to fundraise on your own, or as part of a corporate or friends and family team, every dollar you raise will be supporting vital healthcare research. St. Joe's is a research powerhouse in areas like mental health & addictions, kidney & urinary care, lung diseases, critical care and much more. The funds you raise through this Ride for Research will help to create a healthier future for all of us. CLICK HERE to raise funds for St. Joe's in the 2018 Paris to Ancaster Bike Race.