25TH ANNUAL P2A - SUNDAY APRIL 29 2018

MARCH 2 UPDATE - P2A40 WAVE 1 FILLED
Registrations keep rolling in. The latest wave to fill is the P2A40 Wave 1. The P2A40 Wave 2 is 60% filled and the P2A70 Wave 4 is 70% filled. With the arrival of spring like weather those waves will likely fill fast. There is still lots of room in the P2AVIP and the P2A20.

WARM WEATHER & TRAIL CONDITIONS
Beautiful weather and everyone wants to go out and ride, and train for the P2A. Please make sure you ride on hard surfaces. The trails need more time to dry out. The ground is still frozen just below the surface and we had a lot of rain recently. Ride, or walk, on this soft surface and you are going to do damage. The P2A is 2 months away and the trails will improve. Please give them time. Stick to the road, find a hill to climb or ride into the wind. That will do you more good than riding at 5kph on a trail and leaving tracks that will persist for weeks. Thanks for listening.

P2A FOR WOMEN - SPECIAL EVENT
On Thursday, March 15, there will be a special women's easy, fun ride and social at Grupetto Dundas. The ride will be led by Freewheel Cycle and will start at 5pm. It will be followed by the social at 6:30 with guests Anne Guzman, talking about sports nutrition; Alison Shaver, talking about injury; and a Q&A session with former P2A winner Mandy Dryer. Please RSVP HERE

FEB 21 UPDATE - SPOTS FILLING FAST
Registrations continue to roll in. Based on last year, we are 6 weeks ahead in registrations. 3 Waves in the P2A70 have been filled for weeks. It looks like the P2A40 Wave 1 will be filled soon, with only a handful of spots remaining. The good news is that the P2A40 Wave 2 and the P2A70 Wave 4 still have lots of room. How long that lasts is anyone's guess.

If you missed out on your Wave don't forget about the P2AVIP. You can enter any Wave you want! VIP spots have been selling very well though.

Still want to ride but don't want to do the whole racing thing? Try the P2A20 family ride. There are lots of spots available for this fun event.

JAN 27 UPDATE - P2A FOR WOMEN
We've introduced a new feature under Prepare for the P2A - FOR WOMEN. The first feature is a pair of repair clinics for women racers only presented by Freewheel Cycle in Dundas. Mechanicals do happen on the P2A and this is a great way to be prepared.

JAN 19 UPDATE - P2A CLOTHING STORE OPEN
P2A 25th Anniversary Clothing is now ready to order. Check out the clothing pics on the P2A70, P2A40 and P2A20 pages. Visit the P2A Store to purchase and pick up on Saturday April 28th at registration

JAN 11 UPDATE - Pro Field
Most countries National cross championships will be held this coming weekend. Lots of P2A alumni are in action. Helen Wyman and Ian Field (Britain), Margreit Kloppenberg (Denmark), Caroline Mani (France) and Rebecca Faringer (USA) have all confirmed their participation for the 2018 P2A.

Not confirmed for the 2018 P2A as yet, but still in action this weekend at their Nationals, are Ellen Noble, Jeremy Powers, Anthony Clark (USA), and Ellen Van Loy (Belgium). Good luck and good racing to everyone.

JAN 3 UPDATE - REGISTRATIONS
Registrations for the 25th Edition of the P2A are well ahead of last year's pace. 3 waves in the P2A70 are now filled - Wave 1, Wave 2 and Wave 3 are at capacity. There is still lots of room in P2A70 Wave 4. Remember that you can enter any wave you want if you register for the P2AVIP! Registrations for the P2A40 Wave 1 are going strong, and there is still lots of room in P2A40 Wave 2.

In the meantime embrace the deep freeze and get training. It will be warmer than this on race day. We hope to see at the 25th Annual P2A!

DEC. 8 NEWS - RACE DAY PICKUP
A word about race day kit pickup…from the organizers

As you may know this is the first year that we are not offering race day number pickup. We have had some negative feedback to this and so wanted to explain this change. Most importantly you should know we didn't make this change just to inconvenience you but do acknowledge that we could have made this change more clear prior to registration opening. We have heard your concerns, and will do all we can to alleviate any inconvenience. The goal of this change is to improve the race day experience for all competitors, and relieve last minute stress on our volunteers. Many of these volunteers have worked at P2A for years, and as the event has grown the stresses have increased.

Last year approximately 60% of our almost 3000 competitors picked up kits at the community center starting at 6.30 am race day! Meanwhile approximately 80% of competitors are local. This last minute rush not only puts stress on the volunteers, but also can lead to problems with results if competitors arrive and find their information missing or incorrect. We have modified our pickup procedures to help accommodate those who are coming from a distance – specifically by using online waivers, we can allow group pickup of kits, and we have extended our hours on Saturday. We also have some new and exciting activities available this year, including our first demo day so we are hoping this will entice you to drop by Saturday and take a spin on some of the latest gravel bikes.

We hope you can help us find a way to make it work …but if you can't… don't worry … we won't leave you out … we will develop a solution …we want you at P2A25.

Please contact us at info@parisancaster.com with any suggestions or feedback.

Tim and John

HISTORICAL PHOTOS
We have put up a selection of photos from previous P2A's at the top of each page. If you have any photos from the 1990's editions of the P2A please let us know. We would love to share them with everyone.

SOME GREAT READING
There are 2 blogs that you should check out. First up is from Matt Surch, the 2017 3rd place finisher. If you thought it was an easy race for the pros then read what Matt had to say - CLICK. If you want a sense of what it is like for a P2A first timer, even though she won, check out Rebecca Fahringer's posting. The joys of travel, racing and more - CLICK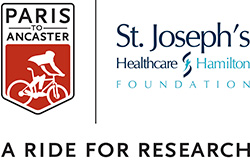 Ride for Research
Back for 2018, St. Joseph's Healthcare Foundation is proud to be the official charity partner of the Paris to Ancaster Bike Race. Now novice and expert cyclists alike can ride to support research at St. Joe's. Whether you choose to fundraise on your own, or as part of a corporate or friends and family team, every dollar you raise will be supporting vital healthcare research. St. Joe's is a research powerhouse in areas like mental health & addictions, kidney & urinary care, lung diseases, critical care and much more. The funds you raise through this Ride for Research will help to create a healthier future for all of us. CLICK HERE to raise funds for St. Joe's in the 2018 Paris to Ancaster Bike Race.