WELCOMING OUR SPONSOR - VALERY HOMES
The P2A is pleased to announce our new sponsor VALERY HOMES. Valery Homes are presenting the P2A70 and the P2A Pro Criterium. Valery Homes are also Community Champions supporting St. Joseph's Health Care Hamilton through the P2A. Paul and Anthony Valeri will be riding the P2A20, along with their families and employees, and raising funds to support research that wil lead to a healthier future for all of us.

"LOVE HOW YOU LIVE" Valery Homes are home builders in Hamilton and surrounding areas. Valery Homes is devoted to building communities of excellence. We would like to sincerely thank them for sponsoring our event and for their fund raising efforts for St. Joe's.

NEW EVENT - P2A PRO CRITERIUM
The P2A race organizers are pleased to announce an exciting new addition to the P2A weekend. Taking place on Saturday April 29, the P2A Pro Criterium will feature an international field of professional men and women riders competing in a spectator friendly criterium format.

Its a blend of road and offroad, and best described as a cross between a road criterium and cyclocross. The downtown Paris circuit will be a 750m, 5 corner, technical circuit. The road surface is mostly paved, but also features 100m of graveled potholed lane, and a short 50m grass sector just like the next day's P2A but of course on a smaller scale.

What's on the line?
$5,000 cash prize list - Equal payout for men and women
Last chance to qualify for the elite wave on Sunday - P2A call up for the top ten from the P2A Pro Criterium.
Heats and finals format. Heats begin at 1pm. Finals at 4pm.

For more details and a promo video - CLICK HERE

Call For Volunteers
Like most events, P2A succeeds because of the volunteers that contribute their time and effort each year. If you would like to be a part of the race, without the mud, we have a variety of opportunities for you. From registration assistants, to course marshals, andstart line assistants, we have a role to suit your schedule and/or interests. If your group of 6 or more is interested in a fundraising opportunity, contact us asap to discuss. Contact Dave at volunteer@parisancaster.com for more information. All volunteers are eligible for draw prizes. T shirts and lunch provided as always.

APRIL 1 REGISTRATION UPDATE
Registration for the P2A on Sunday April 30, 2017 has been open since November 1, 2016. This isn't an April Fools joke either. We are pretty much filled.

P2A70 - Wave 1 filled on Jan. 23rd
P2A70 - Wave 2 filled on Jan. 3rd
P2A70 - Wave 3 filled on Jan. 19th
P2A70 - Wave 4 filled on April 1st
The VIP (pick any wave you want) has 6 spots left.

P2A40 - Wave 1 filled on March 28.
P2A40 - Wave 2 filled on April 1.

There is still room in the P2A20 and the Let's Ride Kids Program, but likely not for long.

Remember that there are field limits and both the P2A40 and P2A70 sold out long before the 2016 ride.

CONGRATULATIONS ZIGGY!
Few people have had as long a history with the P2A as Ziggy Martuzalski, owner of ZM Cycle Fitness. Ziggy has raced the event, sponsored the event and helped out over many years. Ziggy is opening a second ZM Cycle Fitness store in Kitchener where he began many years ago. The new store opens on April 10 on Strange Street at Victoria. And if you're in Toronto don't forget about his store on Dufferin Street at Rogers Road. Check it out on the web at http://www.zmcyclefitness.com/

MARCH 31 - ELITE WAVE CUTOFF
Racing Elite is something special. You really do have to earn it. The P2A is a big event so even as an elite you can't wait until the last minute to register. After March 31 we cannot guarantee you a spot in the race. If you qualify for the Elite Wave, please help us out and register soon. As it says on our registration page "Additional invitations for the unfilled positions in the Elite start will be issued to riders of exceptional ability at the organizers discretion after this date. If you wish to be considered for an upgrade to the Elite start you must be registered by March 31, 2017."

2017 P2A EXPO
Registration has been going very well for the 2017 P2A. What better way to reach over 2000 cyclists than to be part of our EXPO. Every year our EXPO gets bigger and bigger. Every participont sees the EXPO as it is in the registration room. For more info CLICK.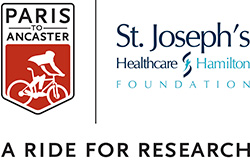 Ride for Research
Back for 2017, St. Joseph's Healthcare Foundation is proud to be the new official charity partner of the Paris to Ancaster Bike Race. Now novice and expert cyclists alike can ride to support research at St. Joe's. Whether you choose to fundraise on your own, or as part of a corporate or friends and family team, every dollar you raise will be supporting vital healthcare research. St. Joe's is a research powerhouse in areas like mental health & addictions, kidney & urinary care, lung diseases, critical care and much more. The funds you raise through this Ride for Research will help to create a healthier future for all of us. CLICK HERE (AVAILABLE NOW) for more information on how to register and raise funds in the 2017 Paris to Ancaster Bike Race.


Congrats P2A CX Alumni
Many countries had their CX Nationals in January. We would like to extend our congratulations to 2016 P2A alumni who podiumed. Belgian rider Ellen Van Loy was on the podium for the 5th consecutive year placing 3rd. In the US Nats, Jamie Driscoll took 2nd place and Ellen Noble (2016 P2A women's winner) won the U23 category for the second straight year.